Navigating E-commerce Turbulence: Defining the Right Platform Strategy
How to choose an e-commerce vendor? Unveiling common pitfalls companies face and providing strategic advice.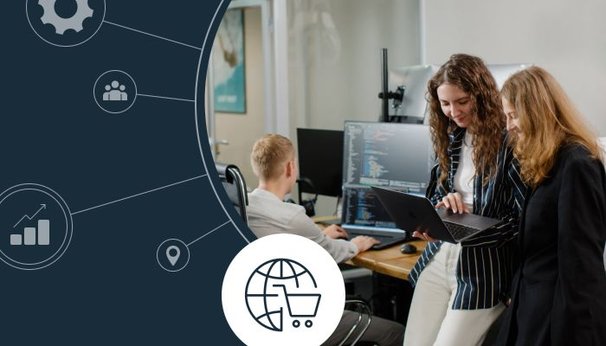 As economic unrest continues, retailers of all sizes and niches are looking for effective and functional solutions. Businesses witness the rise of unconventional go-to strategies, such as artificial intelligence, social media commerce, headless CMSs, and other trends. A robust e-commerce solution will represent a firm basis to adapt to the new demand and evolve.
In the pursuit of better outcomes, do not overlook a simple yet important idea: always start with your business focus, not the platform. Here is why. Imagine months invested in the launch of your e-commerce solution and the associated development costs. Then you realize that the selected platform does not align with your business strategy, despite emerging as a reasonable decision at first based on development costs, available features, and the ease of maintenance. In such a scenario, businesses end up with incompatibility issues, limited scalability, subpar customer experience, and higher maintenance costs. What if you could foresee those obstacles and make informed choices head-on?
In this blog post, we will look into tips for vendor evaluation and share insights on the selection criteria.
Is there a magic pill?
Whether you are adopting or switching an e-commerce platform, you are exposed to a variety of options. The recent survey by Digital Commerce 360 shows that 35% of respondents prefer an established e-commerce platform that can be tailored and hosted externally in the cloud. The trend is driven by the growing need for flexibility, scalability, effective resource allocation, enhanced maintenance, and support of the platform.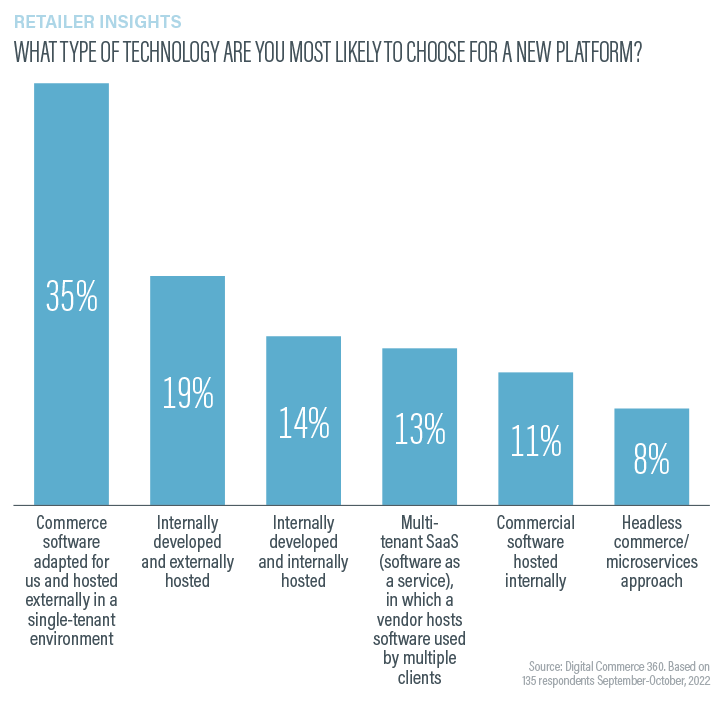 Technology choices for e-commerce development (Image credit)
No vendor—having a good reputation and customer success stories, though,—is a magic pill for your business. Here are several obstacles each company may encounter when choosing the first (or second) e-commerce platform.
1. Compatibility and integration. An unparalleled customer experience is a big differentiator. With time, you may notice that your platform does not offer necessary features out-of-the-box, so there might be a need for additional customization and development. In the middle of the process, though, it may come to light that the platform is incompatible with the services, the APIs, or data formats. This may lead to data silos or require extra engineering efforts, which together may lead to performance issues.
2. Scalability. As your business grows, so should your platform to meet increasing demands. At the outset, it seems like a long way to go and there is plenty of room for scalability planning. However, it may be a risky approach. Unexpected traffic surges can overwhelm the system, and without a well-thought-out scalability strategy, you may end up with increased downtimes and missed growth opportunities.
3. Maintenance and support. Many vendors are locked down, so you rely heavily on technical personnel to make changes, which may get expensive. At the same time, the lack of efficient service may cause operational delays, inability to deliver timely updates, etc. As a result, the platform might experience slow performance and unforeseen disruptions, leading to a compromised user experience.
4. Migration and data transfer. Eventually, you realize the need to migrate to a new platform to meet your evolving business needs. Data migration is a complex process, though. It calls for careful planning and execution to mitigate data loss or downtime risks that can jeopardize mission-critical operations.
The list may vary as per specific business scenarios. By addressing those common pain points upfront, you lay a solid foundation for your e-commerce venture that will exceed customer expectations.
Weighing the options for informed decisions
Each platform is unique, and so is your business. You can start evaluating the options based on your key considerations. For B2C and D2C companies, pricing and vendor support remain a crucial factor, as it directly influences operational capacity and customer acquisition. Meanwhile, B2B businesses going online invest in implementing complex B2B functionality, such as user access control, flexible ordering and checkout, pricing and quoting, analytics, etc.
Let's dive into some basic recommendations you can refer to while exploring the options.
Assessing platforms that mold to you—not visa versa
Adopt a platform that balances built-in features and the flexible API to seamlessly integrate with third-party services. For example, you may need to use a specific payment system, a shipping provider, etc., so you drastically adapt your current processes.
Alleviating the steep learning curve—saving time and money
When choosing an e-commerce platform, take into account your time-to-market and available resources. Opt for a platform that offers a user-friendly admin panel easily managed by non-technical teams. A system with an intuitive interface and features can save valuable time and resources that would otherwise be spent on extensive training. Also ensure that the platform grants timely support so that technical specialists can quickly submit and resolve any issues, ensuring uninterrupted operations.
"Choosing an e-commerce platform is far from a breeze—it is a thoughtful and strategic process. At Amitech, we emphasize the importance of building products, not features. You transform the platform from a basic storefront into a holistic solution capable of forging resonating experiences for both your target audience and internal teams. An intuitive user experience coupled with flexibility and efficiency of development and maintenance forms a backbone of a successful transformative undertaking".

Looking out for the headless technology
For scalability, enhanced agility, and better customization of your platform's presentation layer, consider adopting headless commerce. You can modify the front end as per your dynamic needs without compromising the core commerce functionality, which saves you time and resources on development tasks.
Supporting complex functionality
B2B businesses dealing with extensive product catalogs, negotiated pricing, multifaceted transactions, and diverse buyer segments require a robust e-commerce platform. The right solution will allow for streamlined operations and ease of customization, so that you could focus on your business growth.
If it comes to migration
Should you decide to migrate to a new e-commerce platform, it is crucial to have a well-defined plan in place. Executing the migration strategically and step by step ensures a smooth transition, while also allowing you to identify and address any previous bottlenecks that could paralyze operations. Thus, you safeguard your business from potential disruptions and create a seamless path to success.
Towards a bold online presence
Building unique experiences is not a trivial task, yet it reaps rewarding outcomes. With continuous research and customized solutions, you can solve the real problems of your customers and build lasting trust. At the same time, balancing end-user needs and your team's capacity to address them effectively is paramount.
To navigate the journey successfully, you can partner up with a team of professionals to address your "why's" and "how's" and lay the groundwork for a robust digital footprint.
About the authors

Valeryia is a proficient Technical Content Writer adept at crafting engaging and user-friendly copy for B2B audiences. With a proven track record, her expertise spans across diverse subjects, including software technology, cloud computing, and e-commerce development. During her career, Valeryia led commercial projects in partnership with industry leaders, such as Amazon Web Services and The Linux Foundation.
Lorem ipsum dolor sit amet, consectetur adipsicing elit

Explore Sitecore OrderCloud capabilities for your business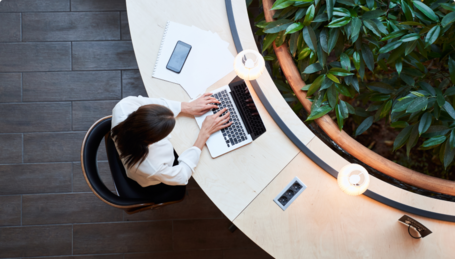 Lorem ipsum dolor sit amet, consectetur adipsicing elit
Lorem ipsum dolor sit amet, consectetur adipsicing elit, sed do eiusmod tempor incididunt ut labore et dolore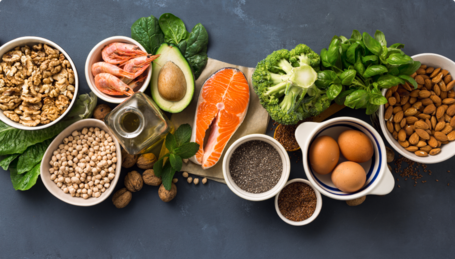 Lorem ipsum dolor sit amet, consectetur adipsicing elit
Lorem ipsum dolor sit amet, consectetur adipsicing elit, sed do eiusmod tempor incididunt ut labore et dolore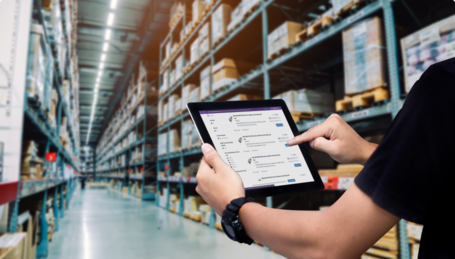 Lorem ipsum dolor sit amet, consectetur adipsicing elit
Lorem ipsum dolor sit amet, consectetur adipsicing elit, sed do eiusmod tempor incididunt ut labore et dolore