Bring Scalability, Personalization, and Ease of Management to Your E-commerce Store
Employ our Adobe Commerce development services to spin up your online solution
Unlock your business potential with Adobe Commerce
Extended capabilities and customization
Thanks to a cloud-based headless architecture, you can easily scale your platform and integrate it with any solution of choice without sacrificing performance. Tailor customer experiences across multiple touchpoints to reach your audience and meet their demand wherever they are.
Streamlined commerce management
Drive projects—both B2B and B2C—with complex business logics and diverse marketing channels in a single place. Employ unified functionality to deliver consistent and rich customer experience across unlimited storefronts, while simplifying platform management.
Personalization and better customer reach
Benefit from business intelligence tools and AI-powered data analytics to better understand customer's purchase behavior. Improve decision-making and tailor marketing campaigns, as well as deliver personalized and relevant experiences.
Explore Adobe Commerce features
AI-driven catalog management
Flexible API and integrations
Fraud prevention measures
Automated analytics and reports
Inbuilt content management
Advanced search capabilities
Integrated payment gateways
Adobe Commerce services we provide
At Amitech, we offer methodology and tooling to help you better engage customers, improve brand awareness, and drive loyalty. By optimizing processes and automating manual tasks, you can focus on what matters most—your business growth.
Strategy and technology consulting
Identify and prioritize business goals, develop a results-driven project roadmap, and make smart technology investments that put you ahead of the competition.
E-commerce project implementation
Enable a seamless project launch all the way through. From UI/UX design and prototyping to Adobe Commerce development, integration, testing, and deployment—we've got you covered.
Make sure all your mission-critical data is seamlessly transmitted to Adobe Commerce. Our engineers outline a step-by-step plan to carefully migrate your legacy system without impacting your customers' experience.
Ongoing support and maintenance
Deliver timely Adobe Commerce upgrades and resolve technical issues of any complexity. Our Adobe commerce maintenance services span an array of tasks: from stability and security to performance optimization—all to ensure your long-term success.
Launch an online store in 3 steps and go live in 4 weeks
Amitech B2B accelerator with the ordering, payment, and marketing functionality for a successful project kick-off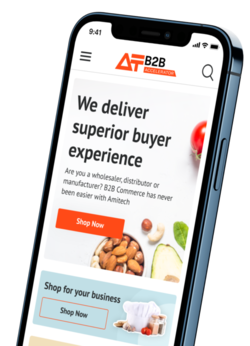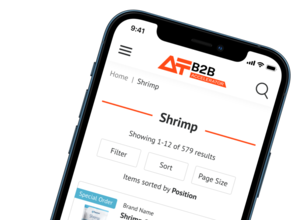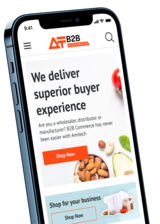 Launch an online store in 3 steps and go live in 4 weeks
Amitech B2B accelerator with the ordering, payment, and marketing functionality for a successful project kick-off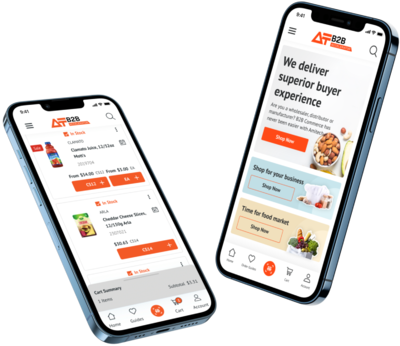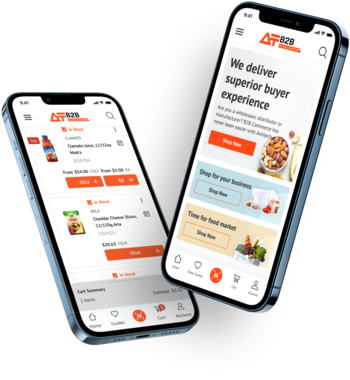 Partner with a reliable e-commerce provider
Adobe Commerce solution partner, Amitech is a growing technology company that helps deliver scalable, performant, and integrated B2B and B2C e-commerce solutions.
Extensive industry experience
Customer-oriented approach
Powerful e-commerce toolset
Flexible cooperation options
Adobe Commerce (formerly known as Magento Commerce) empowers businesses to create bespoke online stores tailored to their specific requirements with a rich array of features. It offers advanced tools for managing product catalogs, order processing, and inventory tracking. Moreover, it provides an integrated suite of marketing and promotional tools like SEO optimization, e-mail marketing, and customer segmentation. The open-source platform enables businesses of all sizes to achieve a high level of customization and flexibility, while its seamless integration with other Adobe products like Adobe Analytics and Adobe Marketing Cloud allows for a comprehensive digital marketing experience.
Adobe Commerce and Adobe Commerce Cloud are both e-commerce solutions offered by Adobe, but they differ in their deployment and hosting options.
Adobe Commerce Cloud is a fully hosted e-commerce solution that is cloud-based. This means that Adobe hosts and manages the software on their own servers, and you can access and manage your e-commerce deployment in the cloud.
Amitech is a young and dynamic team of business and tech-savvy minds specializing in end-to-end e-commerce solutions. With the vast industry expertise, we help build a robust and engaging digital presence for your business. Collaboration is valued, and our commitment to excellence and strong business ethics ensure your project;s success.
Amitech is a high-tech company proficient in developing fully fledged e-commerce software on top of popular platforms. Our engineers are certified experts in Adobe Commerce Community Edition/Enterprise Edition, Sitecore OrderCloud, BigCommerce, Shopify (headless), Oracle Commerce Cloud, and Oracle Open Storefront.
Ready to meet your next e-commerce challenge?
Talk to our experts to address it right